contact us
If you have questions, please contact us, all questions will be answered
Tel : 18030236818
Fax : +86-592 5237901
Email : dexing@china-dexing.com
The measurement method of the magnetometer is the Helmholtz coil measurement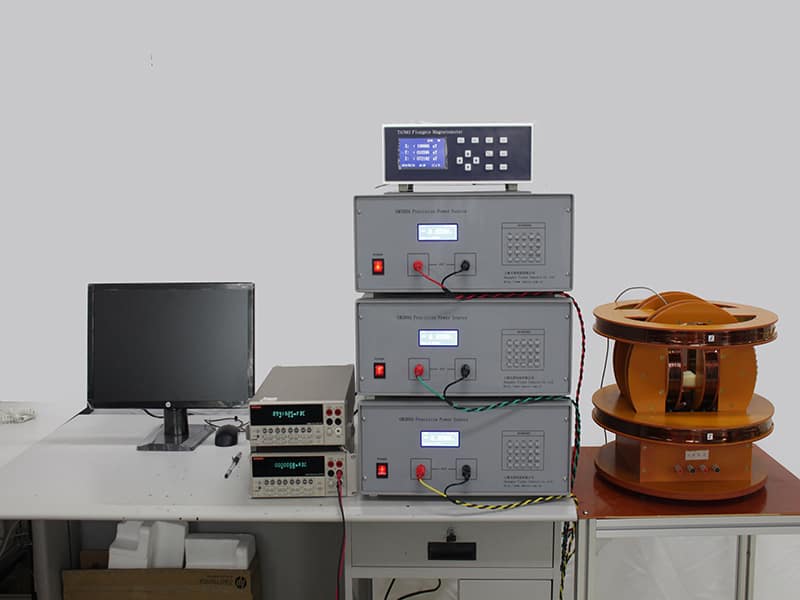 Fluxmeter with Helmholtz coil measurement
Measurement steps:
1. Connect the signal output end of the Helmholtz coil with the signal input end of the magnetometer, and adjust the position of the platform inside the coil to make the height of the platform suitable for the measurement requirements. (The proper height is that after the sample is put into the coil, the center line of the sample is just aligned with the center of the hole of the coil observation.
2. Place the sample in the center of Helmholtz coil, press the reset zero button of the fluxmeter to make the data of the fluxmeter display zero, and then take away the magnet. At this time, the data displayed by the fluxmeter is the working magnetic flux of the magnet.
The flux meter uses the principle of electromagnetic induction, so it usually needs a detection coil at the input end to generate a signal and then input it to the host. Due to the different requirements of users, the coil constant NS of Helmholtz coil is different. Therefore, Xiamen YingdeXing magnetoelectric Technology Co., Ltd. can accept the requirements of customized Helmholtz coil.
inquiry now
We will give you a quotation within 24 hours.