contact us
If you have questions, please contact us, all questions will be answered
Tel : 18030236818
Fax : +86-592 5237901
Email : dexing@china-dexing.com
Products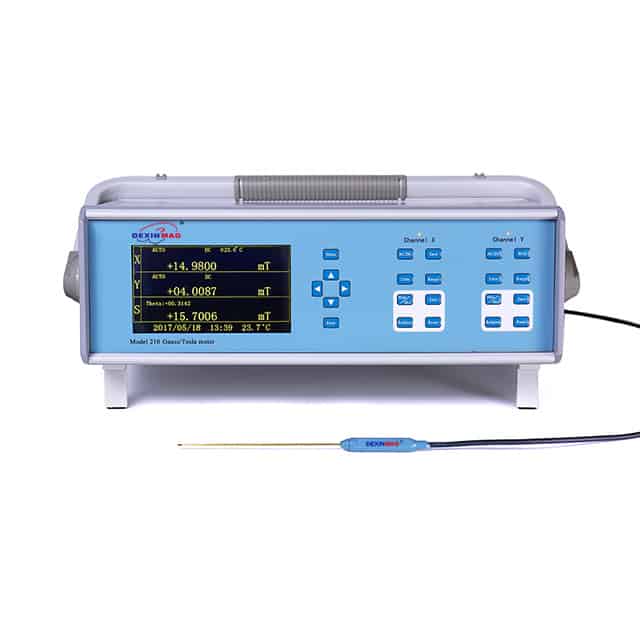 DX-210 Two Dimensional Gauss Meter
DX 210 Two Dimensional Gauss Meter provides a wide-range measurement from DC to up to 100 kHz AC magnetic field measurement; The maximum range is 300KG (30T); The VGA display can simultaneously or optionally display a variety of different measurement values for each channel: magnetic field density, frequency, temperature, angle, maximum, minimum, date and time.
contact now
DX-210 Two Dimensional Gauss Meter
DX-210 Digital Two Dimensional Gauss / Tesla meter is suitable for the magnetic field test application required high accuracy, high resolution. It integrates two sets of high precision Gauss meter, can be equipped with a two-dimensional probe to test two-dimensional space magnetic field and two one-dimensional probes to test respectively. The measuring range is from DC to 50KHZ AC magnetic field.It is designed and produced in accordance with the ISO-9001 standard. With the functions of bright VGA color graphics, excellent self-drawing, full menu operation, 5 ¾-bit readings, high-resolution 1 / 600000, it makes you convenient to observe 0.0001mT weak changes in the high magnetic field measurements. It has a large-capacity data storage and you can review the historical-data according to storage time. Sepcially designed professional graphics software can draw the chart, according to the magnetic field strength. With this Gauss-meter you can achive goals of measuring, storage, communication automatically just in one machine. Advanced 2D operational mode, make it has great value in material analysis and magnetic field mapping. Real time graphics test display can display two channel readings and vector readings.All function keys provide convenience for measuring characteristics. Products are mainly sold to major research institutes, universities and research departments of large factories.
Main Function
*Measure two-dimensional space magnetic field with high precision or for dual channel test
*High-precision AC / DC magnetic field measurement
*Auto/Manul Range: automatically adjust to the suitable range when choosing auto range, manul-selected has three gears.
* Auto/ Manual Storage: This machine provides 3000 data storage space and automatically store data according to set time (1-60 seconds).Also it provides random storage and can be reviewed as per time and stored order.
*Max / Min Lock: Turn on or off the peak measurement function.Capture and display the highest and the lowest magnetic field readings, and lock the interface.
First gear: Maximum/minimum/peak/valley holding
Second gear: interface locking
Third gear: relieving
*Auto Zeroing Mode
1)relative zero magnetic field mode:put the probe into chamber of Zero-Gauss calibrator, zeroing and store the data.
2)eliminate geomagnetism mode:put the probe on horizontal to make sure it is vertical against geomagnetic field,zeroing and store the data.
*Communications and drawing: Through the RS-232 interface to transmit the stored data to the computer, inquire historical data, and use the Gauss meter drawing software to draw high precision charts according to the strength of the magnetic field to select coordinate, print and send.
At the same time, DX-180 monitoring analog output ( BNC ) can provide auxiliary automation capabilities without PC circumstances.
* Industrial Output ( optional): standard industry interface, output control signals according to the requirements.
DX-210 optional accessories
Gauss meter professional drawing software(including data base)
Zero Gauss chamber of Gauss meter
Serial port USB2.0 connector
Gauss meter probe fixing rack
inquiry now
We will give you a quotation within 24 hours.
Contact Us:
Company: DEXING MAGNET TECH. CO., LIMITED.
Tel: +86-592 5237772
Email: dexing@china-dexing.com