contact us
If you have questions, please contact us, all questions will be answered
Tel : 18030236818
Fax : +86-592 5237901
Email : dexing@china-dexing.com
Products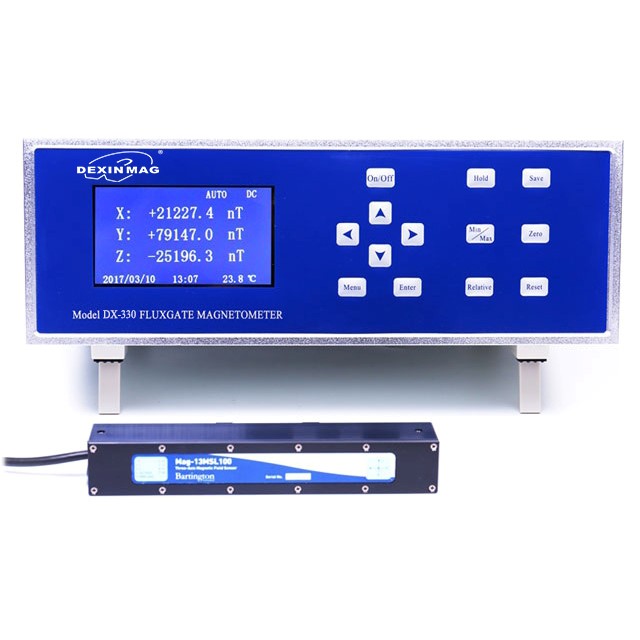 DX-330F 3D Fluxgate Magnetometer
DX-330F fluxgate magnetometers are instruments for accurate measurement of weak static and dynamic and low frequency vector magnetic fields. Compared with a magnetic field measuring instrument with high stability, linearity and accuracy, it is compared with the principle of Hall effect or the principle of magneto-resistance effect. It is the best choice to measure the weak magnetic field.
contact now
DX-330F 3D Fluxgate Magnetometer
Analog signal output, unique CAN bus network interface is suitable for multi-array magnetic field testing, widely used in scientific research, military, aerospace and other departments.
Hardware interface information of Flux-gate Magnetometer
Power Interface and Switch

Rs-232c Connector

Z Channel Analog Output BNC

Probe Input Connector
Applied range:
Monitoring the magnetic field of earth environment, laboratory, and space.

Calibrating laboratory magnetic field shielding and generating field sources, such as: 3D Helmholtz coil system, non-distance coil system etc.

Geological prospecting. Petroleum system while drilling system detect weak magnetic field in rock.

Testing the attenuation characteristics and shielding effectiveness of magnetic field shielding system.

Detecting magnetic shielding effect in magnetic shielding room.

Dipole moment and remanence magnetic field of satellite.

Calibration standard for flux-gate meter, magneto-optical effect magnetometer and all kinds of sensors.

Earthquake precursor monitoring, volcanic observation, and other environmental and disaster geological work.

Aeronautical and marine magnetic measurements.

Research on weak magnetic field in bioscience.
inquiry now
We will give you a quotation within 24 hours.
Contact Us:
Company: DEXING MAGNET TECH. CO., LIMITED.
Tel: +86-592 5237772
Email: dexing@china-dexing.com