contact us
If you have questions, please contact us, all questions will be answered
Tel : 18030236818
Fax : +86-592 5237901
Email : dexing@china-dexing.com
Products
DX-80 Normal Temperature Hall Effect Test System
The instrument system is composed of electromagnet, electromagnet power supply, high-precision constant current source, high-precision voltmeter, Hall effect sample holder, standard sample, and system software. The CH-320 effector specially developed for this instrument system integrates a constant current source
contact now
DX-80 Normal Temperature Hall Effect Test System
The instrument system is composed of electromagnet, electromagnet power supply, high-precision constant current source, high-precision voltmeter, Hall effect sample holder, standard sample, and system software. The CH-320 effector specially developed for this instrument system integrates a constant current source, a six-and-a-half-digit microvoltmeter and a complex switching relay-switch for Hall measurement into a whole, which greatly reduces the connection and operation of the experiment. CH-320 can be used as a constant current source and a microvoltmeter alone. It is used to measure important parameters such as carrier concentration, mobility, resistivity, and Hall coefficient of semiconductor materials. These parameters must be controlled in advance to understand the electrical characteristics of semiconductor materials. Therefore, the Hall effect test system is to understand and study semiconductor devices. And a necessary tool for the electrical properties of semiconductor materials. The experimental results are automatically calculated by the software, and the Bulk Carrier Concentration, Sheet Carrier Concentration, Mobility, Resistivity, Hall Coefficient (Hall) can be obtained at the same time. Coefficient), magnetoresistance (Magnetoresistance) and so on.
Testable materials: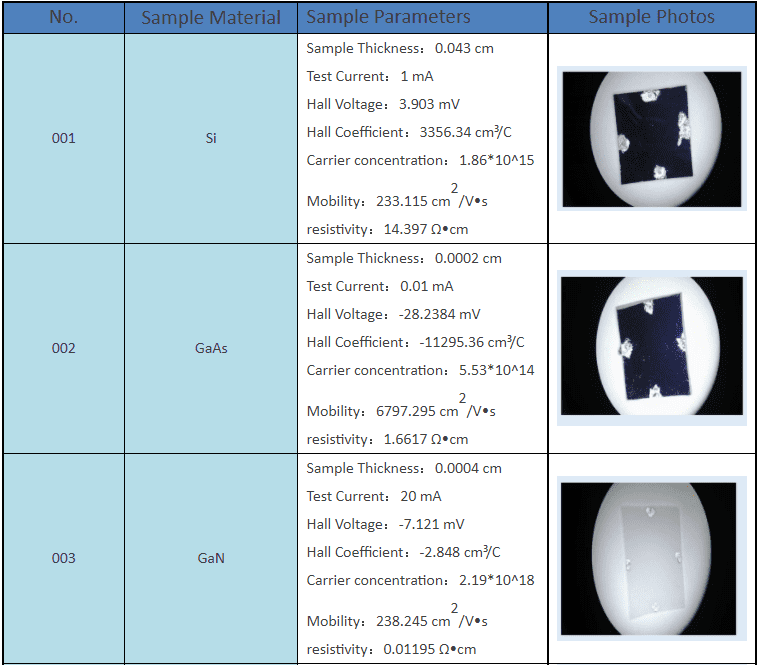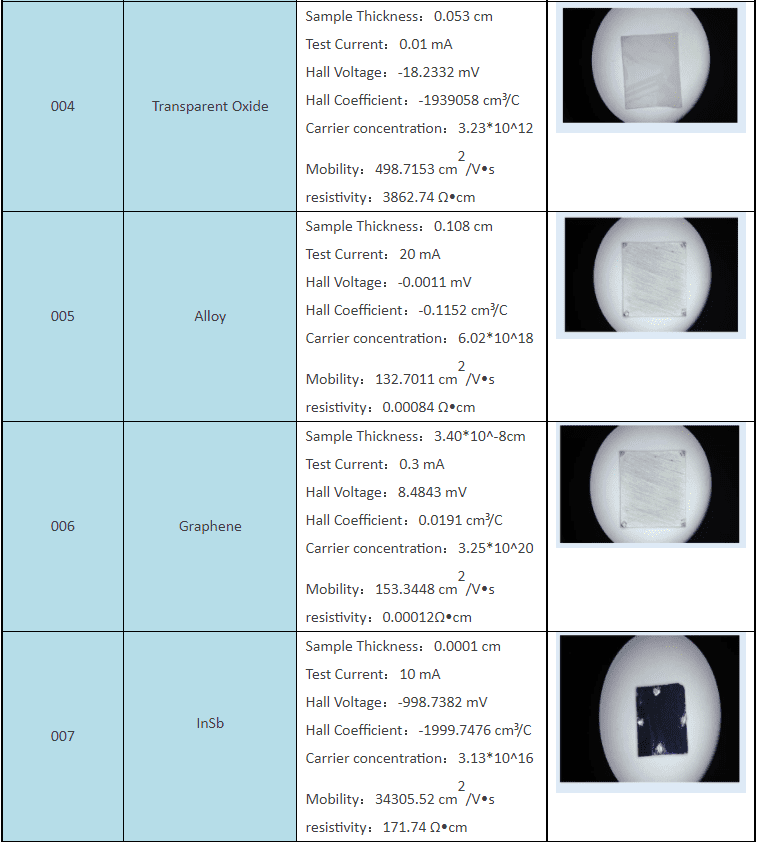 Instrument introduction
Item No.

Name

Technical Specification

001

DX-100

Electromagnet

1. Magnetic field intensity (Magnet Flux Density)

The maximum magnetic field is 1900mT when the distance between N and S is 10mm

The maximum magnetic field is 1300mT when the distance between N and S is 20mm

Maximum magnetic field 900mT when N, S spacing is 30mm

Maximum magnetic field 800mT when N, S spacing is 40mm

Maximum magnetic field 600mT when N, S spacing is 50mm

2. Uniformity of the magnetic field: when the gap is 10mm, the uniformity of the diameter of 20mm is 1%

3. Electromagnet parameters

3.1, pole diameter φ: 100mm

3.2. Diameter of the pole φ: 60mm

3.3. Adjustable range of pole head gap: 0 ~ 100mm

3.4. The internal resistance of the coil: 10.0Ω

3.5. Magnetic field stability: ±0.3Gs (within 24h)

3.6 Self-weight: 110Kg

3.7. With mobile wheels, the placement position can be changed at will according to customer needs

002

DX-2030

A constant current source

1. Output voltage: the effective output voltage range is 0V—100V DC, and the open circuit output voltage is 120V 8V @10A

2. Output current: -10A ~ +10A DC (current linear gradient rate 0.01A/s-2A/s continuous optional)

3. High step resolution 0.1mA (1/100000 F.S.)

4. Accuracy (0.2% setting value + 5mA),

Stability is better than 0.1% @10A

5. Noise/ripple: 10mA RMS typical value @10A

6. The RS-232 interface can be digitally controlled polarity conversion, which is convenient for the automated test process

7. Interactive ability: White backlit FSTN LCD display, necessary LED status indicator, 34-key interactive function keyboard operation with display and indicator, standard RS-232C computer interface and easy-to-use interface features, complete Computer interface command set, timing and continuous trigger output function during scanning

8. Load protection function: instrument power-off protection, instrument over-temperature protection, instrument over-current protection, instrument over-power protection

003

DX-1500

Gauss meter

1. Range: ±0.1Gs ~ ±30kGs

2. Resolution: 0.1Gs

3. Accuracy: ±0.3%±0.05% of reading range

4. The thickness of the magnetic sensor is 1.0mm and the length is 100mm

5. Human-computer interaction: bright widescreen high-definition LCD screen,

4¾ position display, standard 9-pin "D" type RS232 connector

6. Automation: complete computer instructions, through data communication, real-time monitoring and control of the magnetic field environment around the test sample on the computer interface

004

DX-320

Sample constant current source

1. The basic resolution of current output is 0.0001uA, and the basic resolution of voltage measurement is 0.0001mV

2. Output range: 50.00nA-50.00mA can be continuously adjustable in steps of 0.1nA

3. Measuring voltage: 0~±3V large range test voltage meets the test of high resistance chip

4. Built-in four-phase array card with automatic conversion, which can realize automatic measurement of Hall effect van der Pauw method

5. Good human-computer interaction interface, convenient for users to make manual adjustments

6. Complete host computer instructions, which can communicate with the computer to complete various operations
005

PC software

1. One-key automatic measurement can be realized, and the measurement can be carried out without personnel operation after the start of the test.

2. Set in the software to perform automatic temperature change measurement.

3. In the software, I-V curve, B-V curve and the curve diagram of each semiconductor parameter measured against temperature t can be carried out

4. The modular design in the software is convenient for customers to use and the development of related functions. 5. After the experimental results are measured, the data will be temporarily stored in the software. If long-term storage is required, the data can be exported to the EXCEL table, which is convenient for later data processing

6. Provide Hall Effect standard test samples and data from the Institute of Semiconductors of the Chinese Academy of Sciences: 1 set

006

Supporting equipment

1. Standard 600mm*600mm*1000mm (length*width*height) box-type cabinet with built-in 6-pin strips, the quantity and power meet the requirements of the simultaneous use of the power supply of each instrument

2. The standard interface uses FX-8 model mechanical vacuum pump, the speed can reach: 3L/S

3. The thermostat fixing device, with a sliding rail, can realize the thermostat to drive the movement of the sample.

4. Magnetic field sensor probe fixing device: all aluminum non-conductor bracket 5-70mm adjustable

5. Temperature measurement and control connection line fixing device

6. The corresponding tools for making ohmic contact solder joints on the sample: electric soldering iron, indium sheet, solder, enameled wire, etc.
inquiry now
We will give you a quotation within 24 hours.