contact us
If you have questions, please contact us, all questions will be answered
Tel : 18030236818
Fax : +86-592 5237901
Email : dexing@china-dexing.com
Products
Dx-1000 Hall Effect Meter
Hall effect tester is used to measure the carrier concentration, mobility, resistivity, Hall coefficient and other important parameters of semiconductor materials, and these parameters are to understand the electrical characteristics of semiconductor materials must be controlled in advance
contact now
Dx-1000 Hall Effect Meter
Dx-1000 Hall effect meter has stable performance, powerful function, and high-cost performance. It has a wide range of users and popularity in domestic universities, research institutes, and semiconductor industries. The instrument is light and convenient, easy to carry, and mainly used to measure the critical characteristic parameters of electronic materials, such as carrier concentration, mobility, resistivity, Hall coefficient, etc., film or solid materials.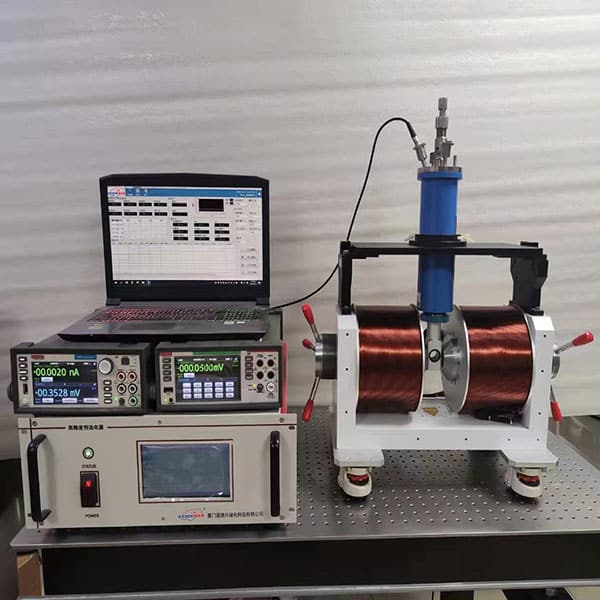 product formation:
The instrument system consists of laboratory electromagnet, high-precision bipolar power supply, built-in Gaussmeter, Keithley2450, Keithley6510, Keithley7709, Hall probe, cable, standard sample, sample mounting rack, system software. It is used to measure the carrier concentration, mobility, resistivity, Hall coefficient, and other important parameters of semiconductor materials, and these parameters must be controlled in advance to understand the electrical characteristics of semiconductor materials, so hall effect testing system is a necessary tool to understand and study the electrical characteristics of semiconductor devices and semiconductor materials. The experimental results are calculated automatically by the software. Bulk Carrier Concentration, Sheet Carrier Concentration, Mobility, Resistivity and Hall coefficient can be obtained simultaneously Coefficient, Magnetoresistance, etc.
technical indicator:
*Magnetic field: 10000Gs (optional 17000Gs) with a spacing of 10mm; 6500Gs (optional 11000Gs) with a spacing of 20mm.
*Sample current: 10nA~1000mA (minimum adjustable current is 0.1NA)
*Measuring voltage: 0.1UV ~200V
*Provide all kinds of test standard materials, all levels of Hall devices (different sensitivity and accuracy)
*Minimum resolution: 0.1gs
*Magnetic field range: 0-±17000Gs (optional)
*With gaussmeter or data acquisition board can communicate with the computer
*I-v curve and I-R curve measurement, etc
*carrier concentration:5X1012~5X1022cm-3
*hall coefficient:±1X10-2~±1X106cm3/C
*electrical resistivity:5X 10-5~5X 103Ω·cm
*migration rate:1x101~1X105
*The test is fully automated with one-click processing
*Professional ohm contact combination kit
Testable materials:
Semiconductor materials: SiGe, SiC, InAs, InGaAs, InP, AlGaAs, HgCdTe, and ferrite materials
Low impedance materials: graphene, metal, transparent oxide, weak magnetic semiconductor materials, TMR materials
High impedance materials: semi-insulated GaAs, GaN, CdTe, etc
High resistance measurement range (optional) :
Volume resistivity:5X10-4~108Ω·cm

resistance range:10mΩ-100GΩ

migration rate:1~106cm2/vs
carrier concentration:6X108~1023cm-3
Hall coefficient:±1X10-5~±1X1010cm3/C
High and low-temperature range (optional) :
4K(-269.15℃)- 873.15K(600℃)subsection
Automatic Hall effect test system standard composition:
1. Keithley2450, USA
product presentation:
The Keithley 2450 is Keithley's next-generation digital source Meter Source Measurement Unit (SMU), and truly ohm's Law (current, voltage and resistance) testing is at your fingertips. Its novel graphical user interface (GUI) and advanced capacitive touch screen technology are easy and intuitive to use. This technology can shorten the learning curve and make it easier for engineers and scientists to create, work smarter and learn faster. 2450 is a one-size-fits-all SMU, particularly suited for analyzing the characteristics of today's modern microform semiconductors, nanodevices and materials, organic semiconductors, printed electronics, and other small size and low power devices. All of this, along with Keithley's high precision, resolution, accuracy, and reliability, provides engineers and scientists with a whole new level of Touch, Test, Invent™ for a new, intuitive source Test experience.
5 inch, high-resolution capacitive touch screen graphical user interface
0.012% basic measurement accuracy and 6-bit half-resolution
Enhanced sensitivity 20mV and 10nA source/measurement range
Source and well (4 quadrants) operations
Four "personality" modes for quick setup and measurement
Context-specific front panels help
Front panel input banana socket; Rear panel input three coaxial connection
The Model 2450 enhances SCPI and TSP® scripting modes
Model 2400 SCPI compatible programming mode
Front-panel USB memory port for data/programming/configuration I/O
Ideal for current/voltage characteristics analysis and functional testing of a wide variety of modern electronics and devices today, including:
Nanomaterials and devices: graphene, carbon nanotubes, nanowires, low power nanostructures
Semiconductor structure: wafer, thin film
Organic materials and devices: electronic ink, printable electronics
Energy efficiency and lighting: LED/AMOLED, PHOTOVOLTAIC/solar cell, solar cell
Discrete and passive components: two pins (resistor, diode, Zener diode, LED, disk drive head, sensor) and three pins (small signal bipolar junction transistor (BJT), field-effect transistor (FET), etc.)
Material properties analysis: resistivity, field-effect)
2. Keithley6510, Us
Overview of the data acquisition system
Reduces test setup, execution, and analysis time
You can easily and quickly set up and run tests without writing test programs. 6510 Data Acquisition and Recording The multimeter system's intuitive touch screen provides simple configuration, visual test Settings, real-time scan status visual information, early detection of problems to avoid loss of test time and easy analysis of test data.
The characteristics of
Configuration: Use a measurement and scan configuration menu to set up a multi-channel scan with multiple measurement functions.
Operation and monitoring: scan progress is displayed during testing, and out-of-range measurement results and out-of-limits are instantly viewed.
Analysis: Display and analyze results using graphing and statistics functions. Delve into the results using the touch screen's finger zoom function. Use the cursor to calculate statistics about the data segment.
Technical indicators:
The 6510 uses 6-bit resolution and 15 built-in measurement functions for measurement. Perform low current, low resistance, and temperature measurements, and view transmitted signals using a built-in digitizer.
The characteristics of
Voltage: 100 nV to 1000 V, basic DCV accuracy is 0.0025%
Current sensitivity: 1 pA to 3A
Resistance: 1μ ω to 120M ω
Capacitance: 0.1 pF to 100 μF
Temperature measurements using thermocouples, resistance temperature detectors, and thermistors (temperature range -200°C to 1820°C)
1 M sampling/SEC, 16-bit digitizer, and storage for 8 million readings provide more options for the test system through 12 plug-in switch modules and up to 80 channel capacity.
3. High-precision bipolar power supply:
Double polarity constant current output
The output current of the power supply can be continuously changed between the positive and negative rated maximum current
(2) The current can smoothly cross zero, non-switching commutation
Output current, voltage four-quadrant work (suitable for inductive load)
④ The current change rate can be set to 0.0007 ~ 0.5F.S./s(F.S. Is rated maximum output current)
※ High current stability, low ripple
Current stability: better than ±25ppm/h (standard); Better than ±5ppm/h (high stability)
② Current accuracy: ± (0.01% set value +1mA)
③ Current resolution: 20 bit, for example, 15A power supply, current resolution is 0.03mA
4. Laboratory electromagnet (customizable)
Electromagnet Introduction:
Technical indicators:
1. Pole size: 73mm
2. Pole surface size: 60mm (standard)
3. Magnetic field air gap adjustment situation: bidirectional adjustable
4. Magnetic field air gap adjustment range: 0-82mm
5. Dc resistance of coil: 5.3 ω
6. Coil spacing: 83mm
7. Maximum working current: ±7A
8. Voltage: ±37V
9. Input power: 0.26kW
10. Magnetic field strength: >10000Gs@10mm
11. Placement: U mouth up
12. Weight: 46kg
5. Built-in Gaussmeter:
Technical indicators:
1. Range: 0 ~ 3T
2 accuracy: ± (reading 0.1% +2Gs)
3. Resolution: 0.01gs (1uT)
6. Test system software:
Location acquisition, digital temperature display, I-V, curve and I-R curve measurement, the body load, flow sub-concentration, and other parameters of curve graphics.
Sample test:
Set the control current, magnetic field, and hall thickness, click the "Start test" button, the software will complete the one-click test process until all hall parameters are calculated. After each test, you can choose to save the calculated value, and then click the "Clear display" button to enter the next test.
If the size of the magnetic field Is kept constant and the size of the control current Is changed, the relationship between Is and VH can be observed by drawing. If the control current is kept constant and the magnetic field is changed, the relationship between B and VH can be observed through drawing.
7. Hall sample Holder:
Used for fixing and welding Hall devices, four-probe pressure point to make contact more convenient and firm. High precision Gaussmeter: resolution: 0.01GS, range: 0-±3T, accuracy: 0.1%, standard 232 digital interface and control port.
Ohm contact kit:
Professional do ohmic contact with indium sheet and phase, should be welded set, material standard sample, silicon, gallium arsenide 2 resistance value: 300-500 ohms.
inquiry now
We will give you a quotation within 24 hours.