contact us
If you have questions, please contact us, all questions will be answered
Tel : 18030236818
Fax : +86-592 5237901
Email : dexing@china-dexing.com
Products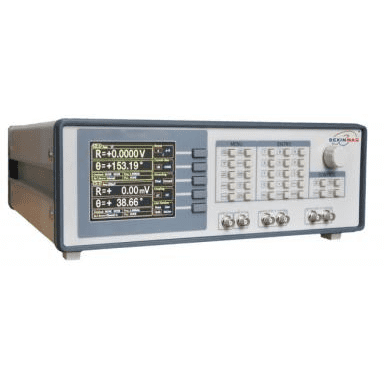 DXA-001C Independent Synchronous Dual-Channel Lock-in Amplifier
The low-noise analog front-end amplifier used in the lock-in amplifier DXA-001C can effectively handle differential or single-ended signals, and its equivalent input noise is only 5nV/√Hz. The input impedance of this channel is 10MΩ, and the input signal level that can be detected at full scale output is 1nV to 1V. In addition, the DXA-001C can be applied to the measurement of input current signal
contact now
DXA-001C Independent Synchronous Dual-Channel Lock-in Amplifier
Input signal channel
The low-noise analog front-end amplifier used in the lock-in amplifier DXA-001C can effectively handle differential or single-ended signals, and its equivalent input noise is only 5nV/√Hz. The input impedance of this channel is 10MΩ, and the input signal level that can be detected at full scale output is 1nV to 1V. In addition, the DXA-001C can be applied to the measurement of input current signals with a front-end variable current gain of 106 or 108 V/A. DXA-001C has two independent signal input channels to meet the needs of users to detect multiple signals at the same time.
Reference signal channel
The DXA-001C digital lock-in amplifier has 2 reference signal channels, both of which can choose to use the internal reference mode or the external reference mode. When the DXA-001C is set to the internal reference signal mode, the high-precision oscillator and digital synthesis algorithm inside the instrument can generate a sine wave signal for multiplying the input signal. At this time, the internal reference signal is hardly affected by phase noise. Impact. Using digital phase shifting technology, the phase of the internal reference signal can achieve a resolution accuracy of 0.001°. The instrument's internal reference signal mode works well in the frequency range from 1 mHz to 102 kHz. In external reference signal mode, both sine wave signal and TTL logic level can be used as external reference signal. The rising or falling edge of the external reference signal will trigger the internal phase-locked loop (PLL) to lock.
Display function
What DXA-001C chooses for use is a 5.6-inch TFT color screen with a resolution of 640×480 as the main display screen of the instrument. The data detected by this lock-in amplifier, such as X value, Y value, R value, and θ value of the signal, can be displayed in numerical value, bar graph, XY coordinate graph, polar coordinate display, etc. at the same time. Data from two channels can be displayed simultaneously.
Simultaneous measurement of multiple harmonics
In the traditional lock-in amplifier, only the fundamental frequency signal or a certain harmonic signal component can be measured at the same time. Therefore, for some situations that require the amplitude and phase of multiple frequency components at the same time, the traditional lock-in amplifier cannot meet the measurement requirements. The digital end of DXA-001C combines FPGA and ARM technology to achieve higher processing bandwidth and more flexible digital architecture. The digital processing accuracy can reach 48 bits, and it can measure harmonics of 3 frequencies at the same time, making one DXA-001C is equivalent to 6 traditional lock-in amplifiers. The detected maximum harmonic signal frequency can reach 32767 times the fundamental frequency, but the maximum harmonic frequency cannot exceed the instrument's operating frequency of 102 kHz.
PC software operation
The standard USB2.0 interface, RS232-DB9 interface, and GPIB (optional accessory) adopted by this instrument ensure that users can effectively use all the test functions of OE1022D on the control computer, including setting reasonable control parameters of the instrument and reading the instrument measured data. This instrument is equipped with a corresponding free LabVIEW program, which enables the DXA-001C to be easily applied to complex scientific experiments. On the LabVIEW interface, the user can see all control commands and instrument feedback responses.
Dual channel signal channel
Voltage input mode: single-ended or differential input
Full-Scale Sensitivity: 1 nV to 1 V in 1-2-5 steps
Current input gain: 106 or 108 V/A
Common Mode Rejection Ratio: >100 dB to 10 kHz, reduced by 6 dB/oct
Dynamic Reserve: >120 dB
Gain accuracy: standard 0.2%, maximum 1%
Voltage noise: 5 nV/√ Hz
Current noise: 15 fA/√ Hz
Power frequency filter: 50 Hz and 100 Hz
Input shield grounding: BNC (A/I, B) shield can be directly grounded or connected to floating ground through a 10kΩ resistor
Demodulator
Digital output: All settings have no zero drift
Display: All settings have no zero drift
Analog output: All dynamic reserve settings are less than 5 ppm/°C
Harmonic suppression: -90 dB
Time Constant: 10 us to 3 ks (<200Hz). 6, 12, 18, 24 dB/oct dip
Sync filter: Effective below 200 Hz with 18,24 dB/oct dip
Auxiliary Inputs and Outputs
CH 1 and CH 2
Function: Output X, Y, R, θ, Harmonics and DC
Amplitude: ±10 V
Drive current: ±30mA max
AUX Inputs
Function 4-channel input
Amplitude ±10 V, 1 mV resolution
Impedance 1 MΩ
Trigger Input
TTL external trigger for data storage
Monitor Output
Analog output of signal amplifier
Drive current ±40mA max
inquiry now
We will give you a quotation within 24 hours.