contact us
If you have questions, please contact us, all questions will be answered
Tel : 18030236818
Fax : +86-592 5237901
Email : dexing@china-dexing.com
Products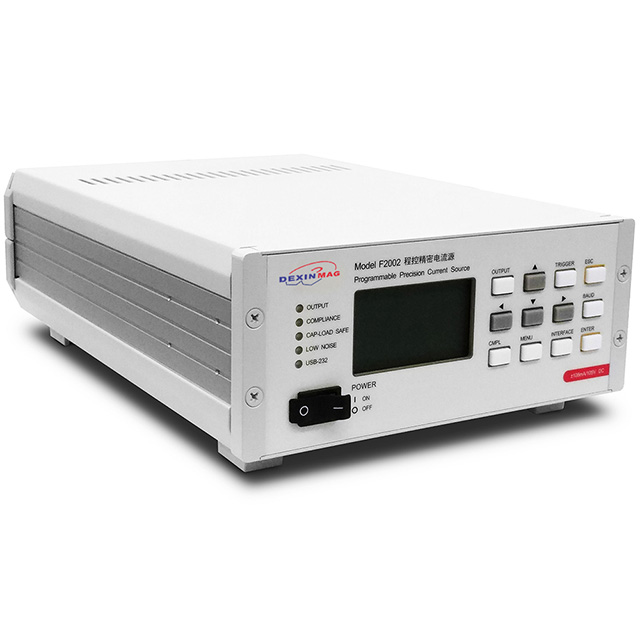 DX-F2002 Precision Current Source
Ua high resolution, * large current +/-55mA, effective voltage 20V precision DC current source.
contact now
DX-F2002 Precision Current Source
Product characteristics:
Output current: -55mA-+55mADC

Resolution: 1μA

High accuracy: 0.05%

Low noise: 5μA RMS @50mA

High stability: <0.01%@50Ma

High output impedance: 500MΩ

Effective output voltage range: ±20.5V

High cost performance and low measuring cost
Output current:
Output range: -55mA-+55mADC (full range mode)
4-20mA (electric current loop mode)
Step: 1μA/55000.00μA
Accuracy: ±( 0.05% of setting value +1μA)
Noise/Ripple: 5μA RMS Typical Value @50mA
Stability better than ±0.01%@50mA
Quadrant relation: relay reversing I, III quadrant output
Output voltage
Range of effective output voltage 0V-20.5V DC
Open circuit output voltage: 22.2V ±0.2V
Output power
Max. output power: >1W
Load protection
Output state switching
Load adaptability
Output impedance: 500MΩ
Output makes up to network
Interaction capability
Blue backlight FSTN LCD display
8 keys interactive function keyboard operation matched display
Standard specification
Offer manual for users
Small size desk type instrument
AC220V/50Hz
inquiry now
We will give you a quotation within 24 hours.
Contact Us:
Company: DEXING MAGNET TECH. CO., LIMITED.
Tel: +86-592 5237772
Email: dexing@china-dexing.com